Get a respected and tested airflow!
Get the most out of your air conditioning system with our AC covers, tested to withstand real-life conditions and approved by industry experts.
Our innovative design offers openings at both sides and the top for maximum airflow around your outdoor unit!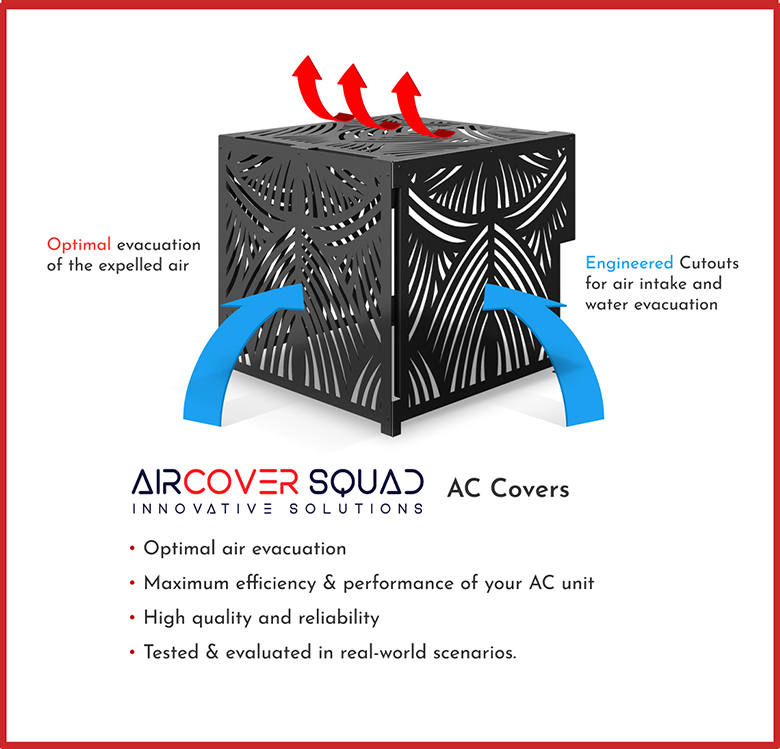 Do you have an Air Conditioner unit that's an eye sore? Are you tired of looking at your old, outdated AC unit? Well, now there's a solution! With AirCover Squad, you can upgrade the look of your AC unit and turn it into a work of art. Our AC covers are made with high-grade 3mm aluminum composite which provides superior protection against hail, leaves, and other debris. The aluminum naturally resists corrosion and rusting, adding to the longevity of the product even under harsh weather conditions. Our covers are also thoughtfully designed to ensure uniform air flow from your Air Conditioning unit. This cover also reduces system noise by up to 30%!
Not to mention, the unique design of the aluminum panels allows proper water evacuation to ensure condensers run efficiently and thus lowers energy bills.
So not only will your AC unit look good, but it will also be more efficient! Installation is a breeze too – our team of professionals make the installation quick and easy. So don't wait any longer, upgrade your AC unit today with our AC covers!
Visit our Shop today and browse through our collection of designs to find the perfect one for you!
Thank you for choosing Aircover Squad!